Take your home from builder-grade to custom-made with low-cost home upgrades you can tackle in a weekend or less.
Keep in mind: Price and stock could change after publish date, and we may make money from these links.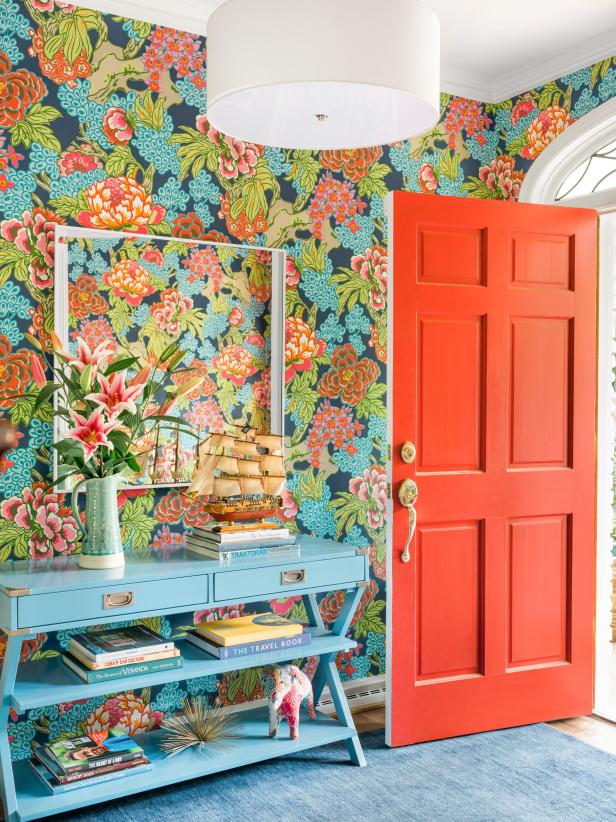 Paint the Front Door
The front door is usually the first thing people see when entering your home. Make a great impression with a bright, welcoming front door color. Not sure what hue to choose? Take our quiz, then follow the step-by-step instructions below for a total entry overhaul.

LEARN HOW: How to Paint a Front Door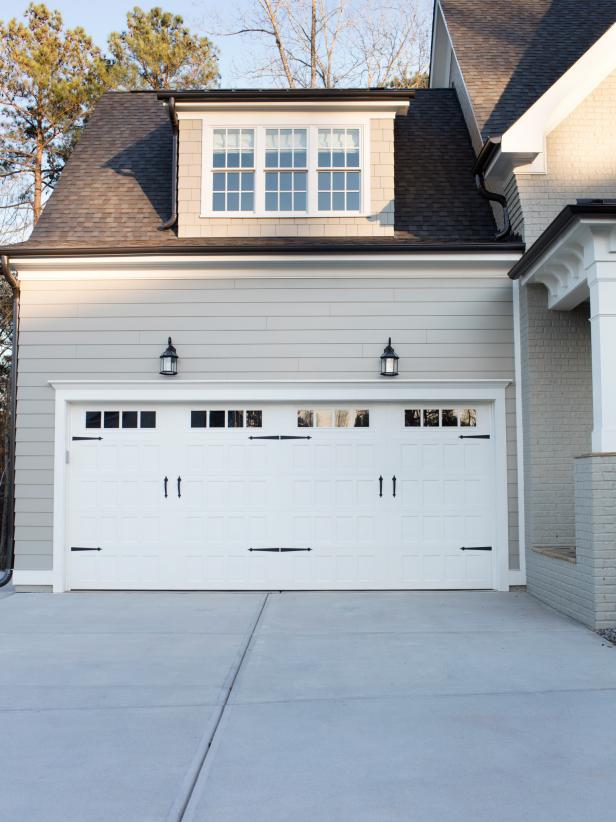 Classic Carriage Doors (on the Cheap)
Carriage house garage doors are highly sought after in home design and renovation, but these charming additions quickly add up in cost. One carriage-style garage door can run upward of $1,400. Luckily there's a budget-friendly alternative: these magnetic hinges and handles will take your door from drab to fab instantly for just $12 — no hardware required.
BUY IT: Amazon, $11.68 (Originally $19.99)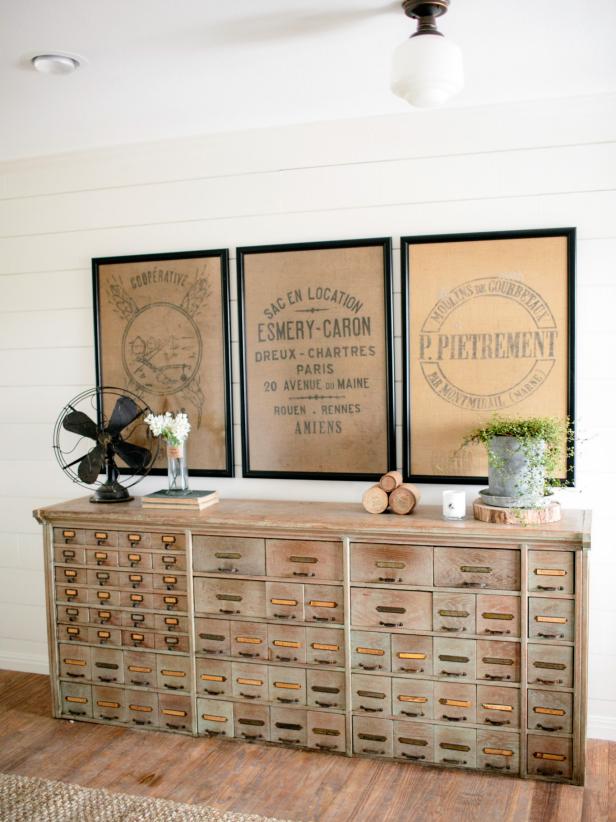 Install a Shiplap Accent Wall
Do you love the look of old shiplap walls and ceilings, but live in a new(ish) home? Add a gorgeous shiplap accent wall in any space for $50 or less by trimming down plywood into planks, then attaching the boards to your wall using construction adhesive and nails. Finish it off by painting the panels, and admire your DIY shiplap on a dime.
LEARN HOW: How to Install Shiplap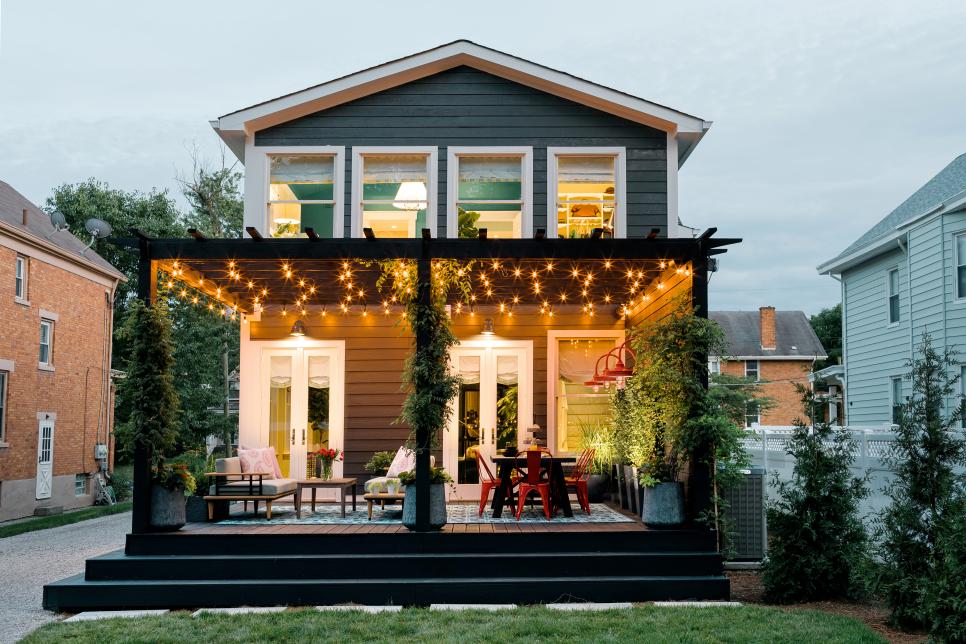 Set the Mood With String Lights
Hung over a patio, porch or backyard, globe cafe lights instantly turn any outdoor space into a gathering spot, increasing your usable square footage. This extra "room" comes in handy when entertaining or in the summer months when warm evenings are best spent outdoors, drink in hand. No fence or pergola to hang your lights from? Try this low-cost DIY.
OUTDOOR GLOBE LIGHTS: Amazon, $15.99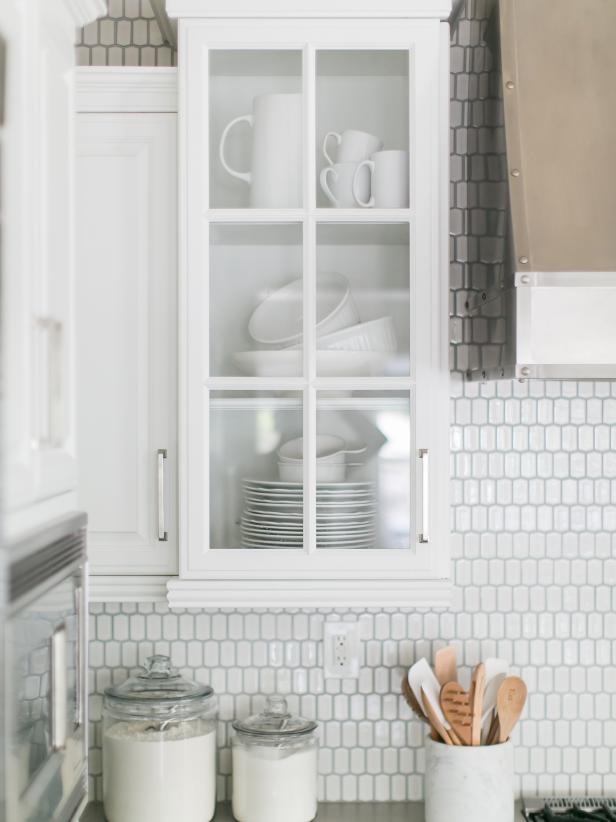 DIY Glass Cabinet Inserts
Brighten up your kitchen and put that gorgeous wedding china on display by replacing interior wood cabinet panels with inexpensive glass sheets. Not brave enough to go totally open with your cabinetry? Try this project on just the set of cabinets flanking your stove or the cabinet over the coffee counter.
GET THE HOW-TO: Update Kitchen Cabinets With Glass Inserts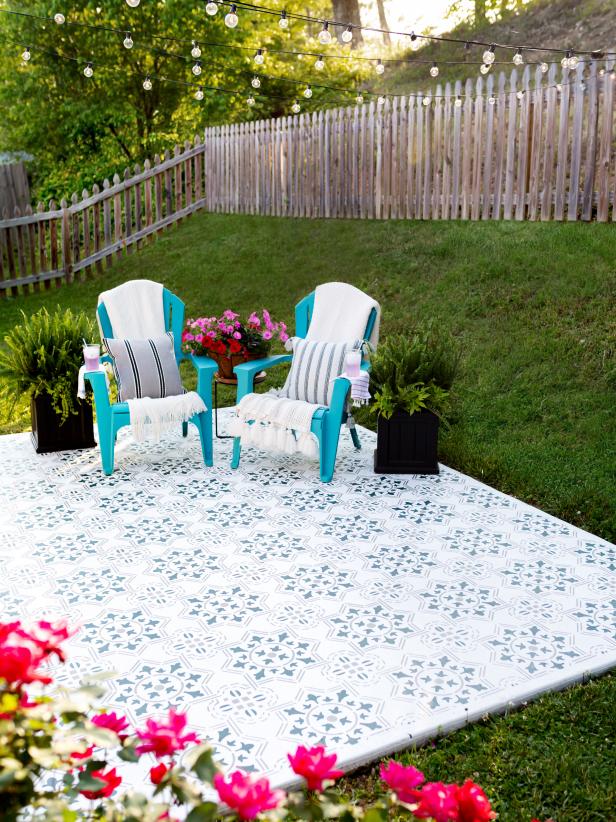 Stencil Your Patio
Has your concrete patio seen better days? You could cover it with an outdoor rug or try this long-lasting DIY. With a can of concrete stain, a plastic stencil, a high-quality stencil brush and a few hours of work, you can totally transform the look of a porch, sidewalk or patio with a stylish, custom tile design.
GET THE HOW-TO: How to Stain & Stencil a Concrete Patio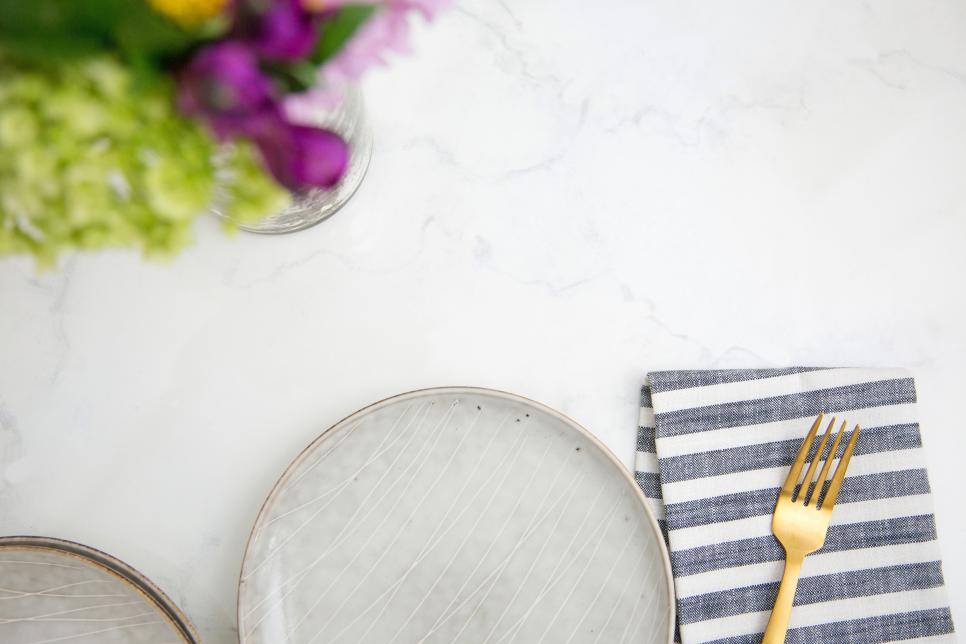 Fake the Look of Marble
Make a worn dining table or old countertops look luxurious by transforming them into chic (faux) marble focal pieces. This unique and crafty DIY combines leftover project paint, ultra high-gloss epoxy and basic craft supplies to recreate the veining lines and texture found in real marble. Patience and a designated project day will save you anywhere from $500 to $3,000 when dreaming of your very own marble furniture piece.
LEARN HOW: How to Paint a Faux Marble Tabletop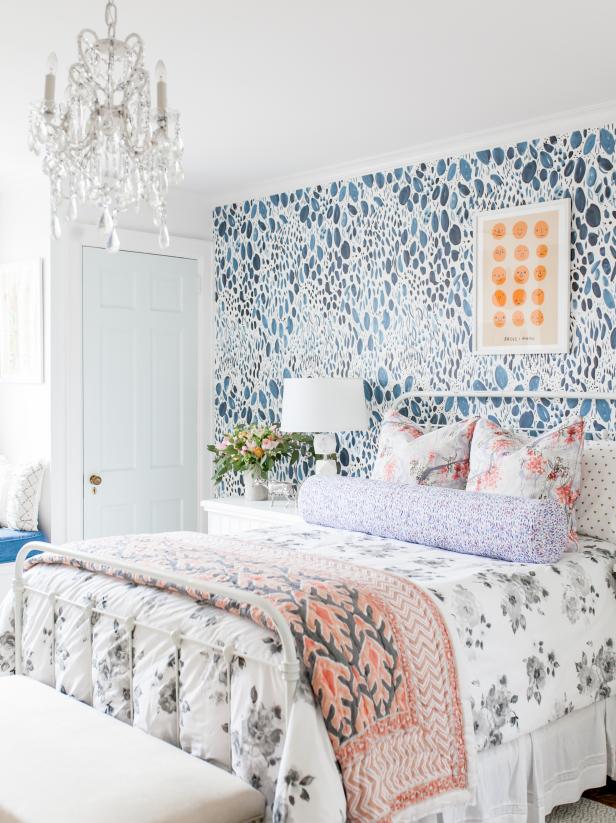 Try Peel-and-Stick Wallpaper
Want to go bold without the risk? Peel-and-stick wallpaper is a temporary way to add a burst of vibrant color or pattern to a room without tearing up the walls. To keep this project affordable and doable, try papering a focal wall or a small, low-humidity space like a powder room or closet. Find trendy removable wallpaper patterns on Etsy.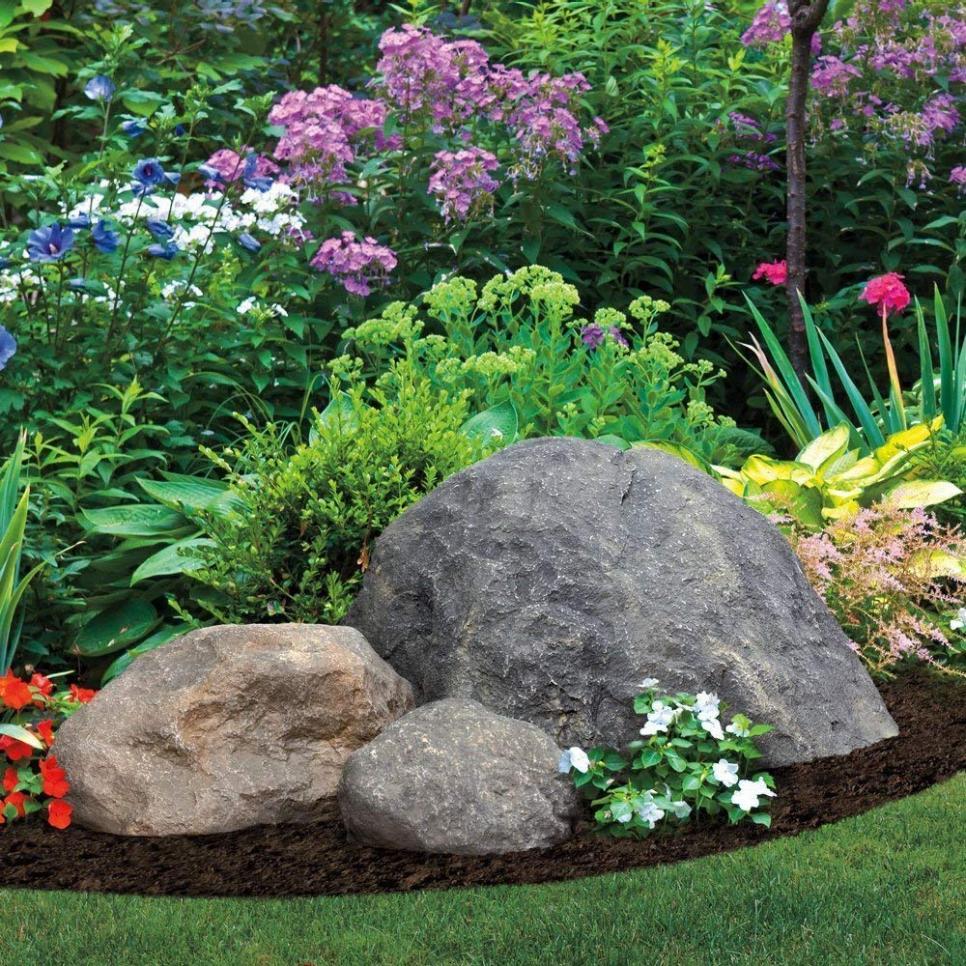 Hide Outdoor Eyesores
If a vent pipe or meter is ruining your garden bed aesthetic, disguise it with an oh-so-natural looking faux rock that fits perfectly over top.
BUY IT: Amazon, $94.98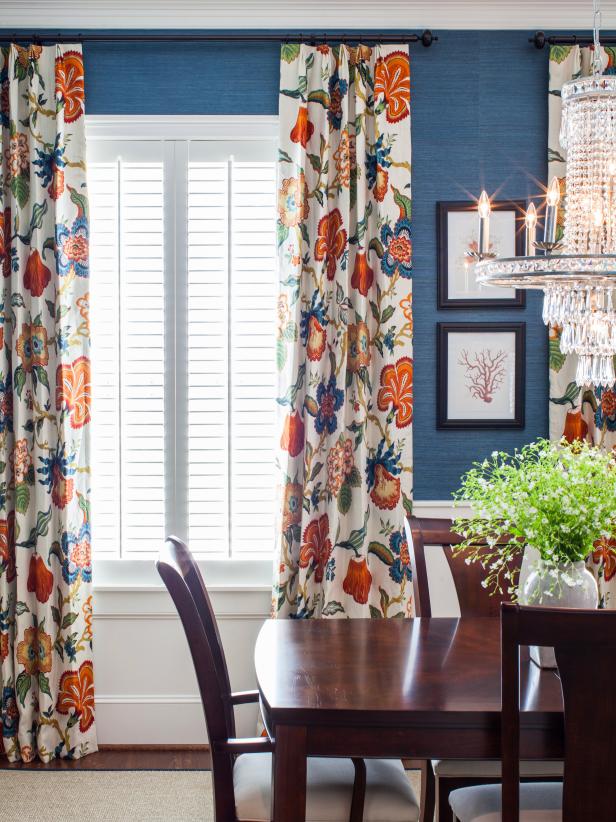 Hang Curtains the Right Way
Make your home look bigger and instantly more luxurious by hanging floor-length drapes 6" to 12" above the window frame or all the way to the ceiling, and extending your curtain rod out 3" to 6" on each side. For a pro look, curtains should puddle slightly or just kiss the floor.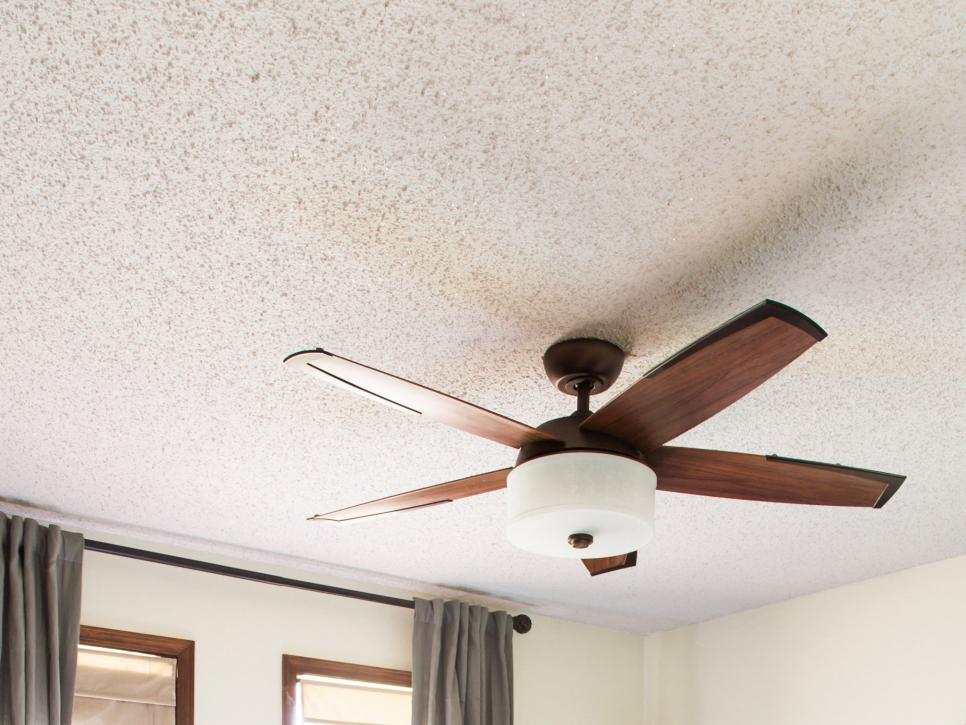 Remove a Popcorn Ceiling
Do you hate the look of your popcorn ceilings? Not only are they unsightly, but they're also unsanitary — a veritable landing pad for dust, dirt and cobwebs. Luckily, they're easily removed with the help of a wet/dry vac and a drywall knife. Note: If your home was built before 1979, test for lead and asbestos before starting this project.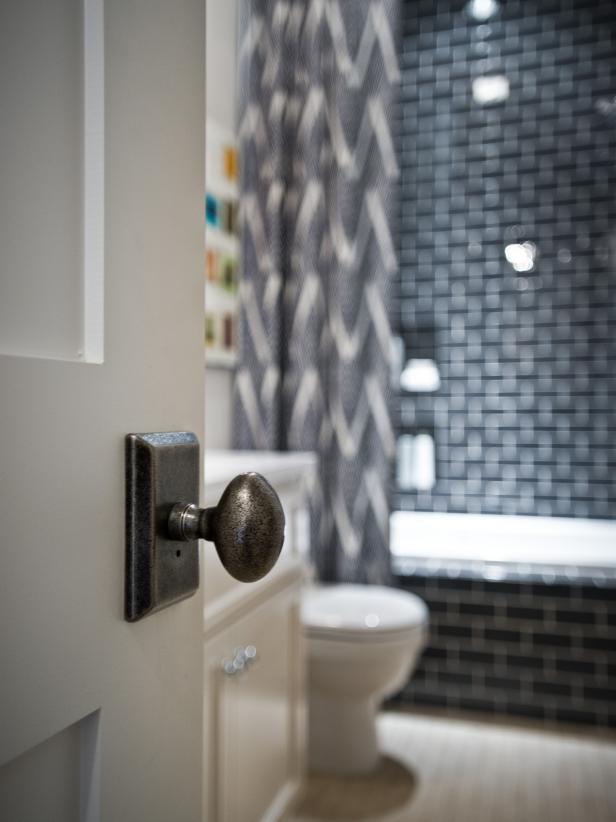 Paint Your Doorknobs
Is your home plagued by dated doorknobs? While swapping them out for new might be tempting, it can add up quickly — especially when one oil-rubbed bronze knob costs around $30 a piece. And that's not to mention the matching hinges and door latches. If you're looking for a cheap, long-lasting alternative, consider painting the knobs in your house for the cost of a can of spray paint and a weekend's worth of work. Learn How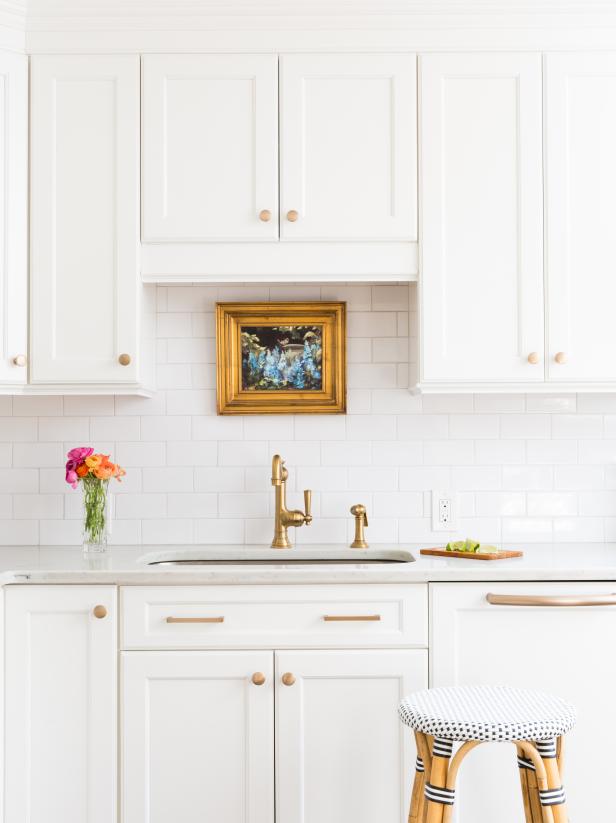 Update Kitchen Cabinet Hardware
A simple white kitchen is made instantly glamorous by the addition of brushed gold knobs and pulls. Pro tip: Measure the width of your existing cabinet pulls before ordering. Also, be prepared to sand and touch up small dings and scratches that may occur while removing old hardware.
BRUSHED GOLD KNOBS: Wayfair, $5.55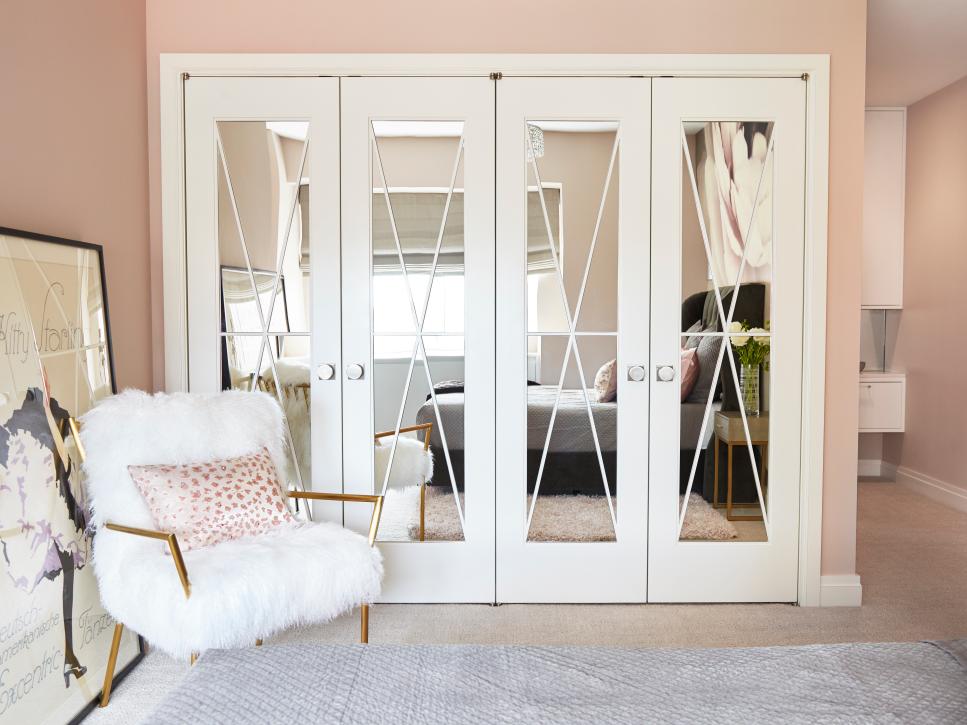 Add Bling to Closet Doors
Make a small bedroom look larger by adding mirrors to plain closet doors or the back of a bedroom door. Simply pick up a couple of cheap, framed floor-length mirrors for less than $10 at your local big-box store, then paint the frame to match your space. Attach to your closet door with construction adhesive for a permanent look or use removable picture-hanging strips if you're renting. Feeling extra crafty? Glue thin trim pieces to the mirrors for a high-end look.
FLOOR MIRRORS: Target, $49.99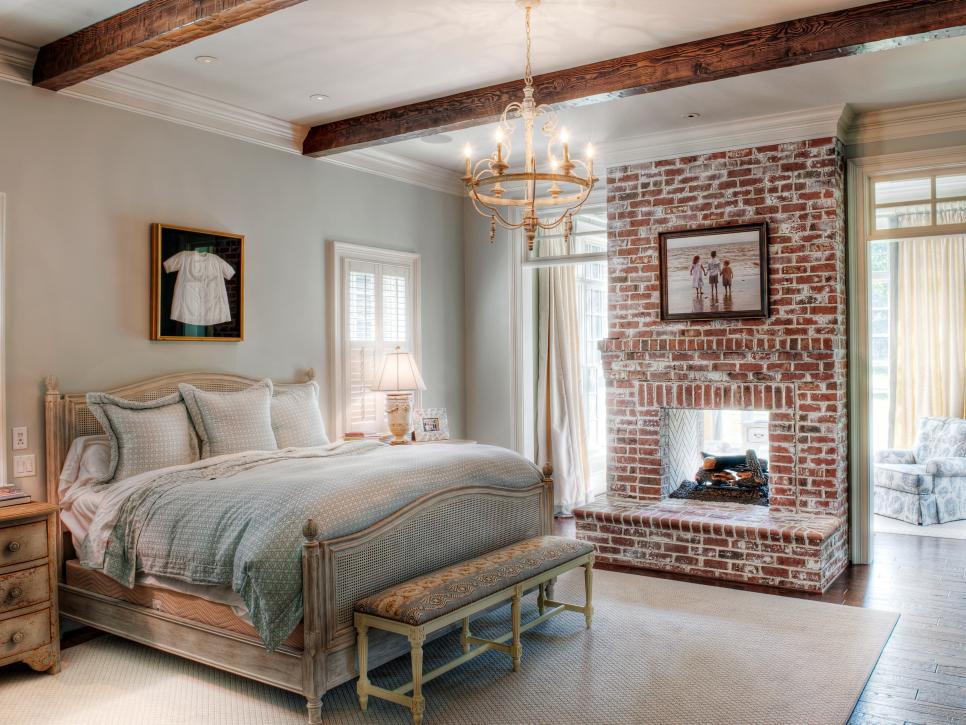 Whitewash a Brick Fireplace
Give your dated brick fireplace a cozy cottage makeover with a paint and glaze application that mimics the look of the classic German schmear seen here. Learn How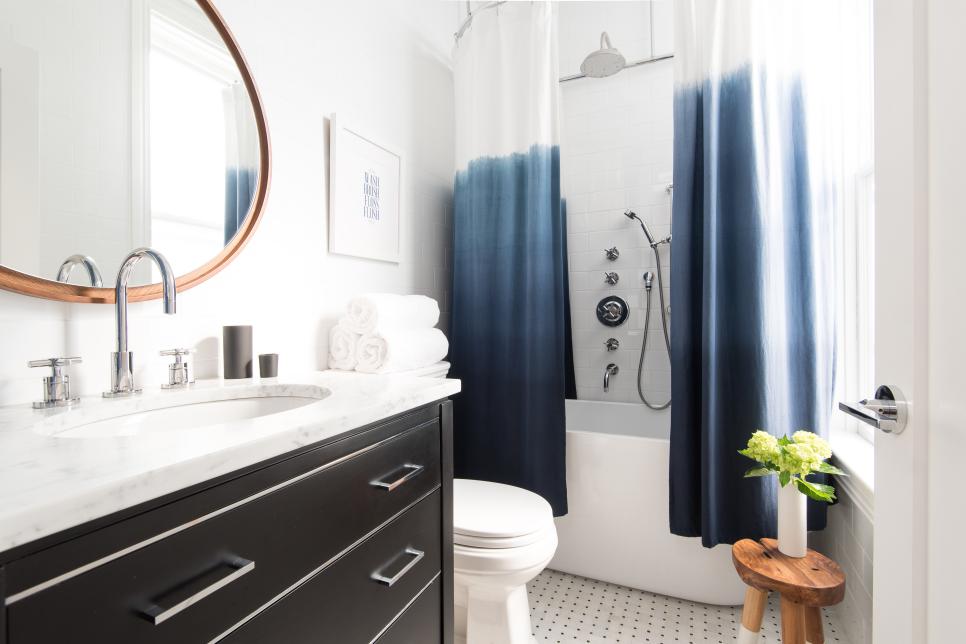 Swap Your Shower Curtain
Your shower curtain takes up the single largest piece of real estate in the bathroom. So needless to say, swapping it out makes a huge impact for very little money. Choose a fringe-style curtain for a boho look, go bold with large, moody florals or opt for a soft, modern ombre like designer Kerra Michele Huerta did here. We also love how she upped the drama by installing a shower curtain on each side of the tub.
BUY IT: JCPenney, $34.99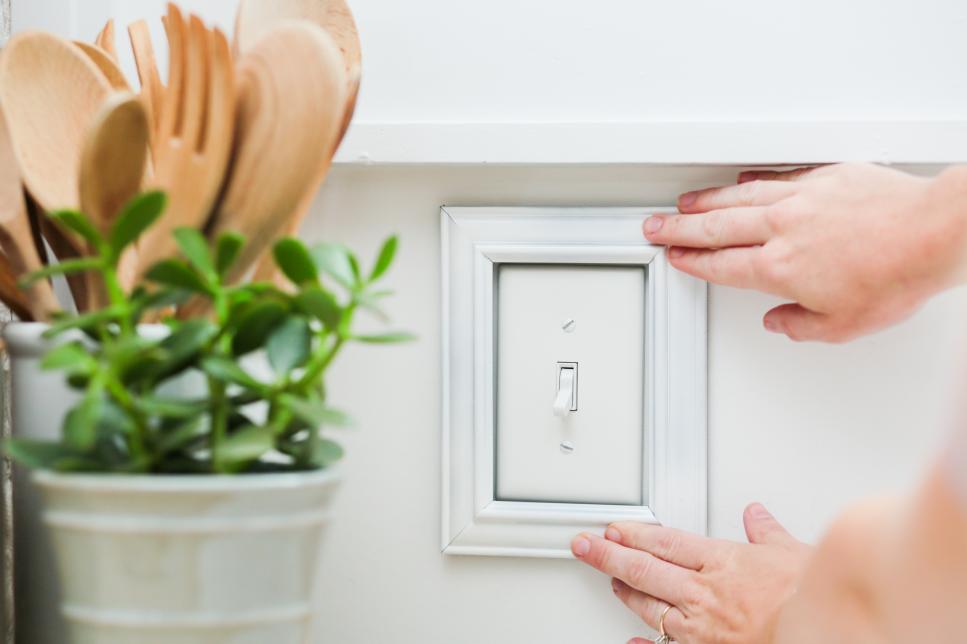 Fake Fancy
Give builder-grade light switches a custom look with this hack. Pick a picture frame that's the same size and color as your switch cover, then attach the frame to the wall with adhesive putty. Pro tip: 3.5" x 5" frames will fit a standard 1-gang switch plate.
BUY IT: Michaels, $10.49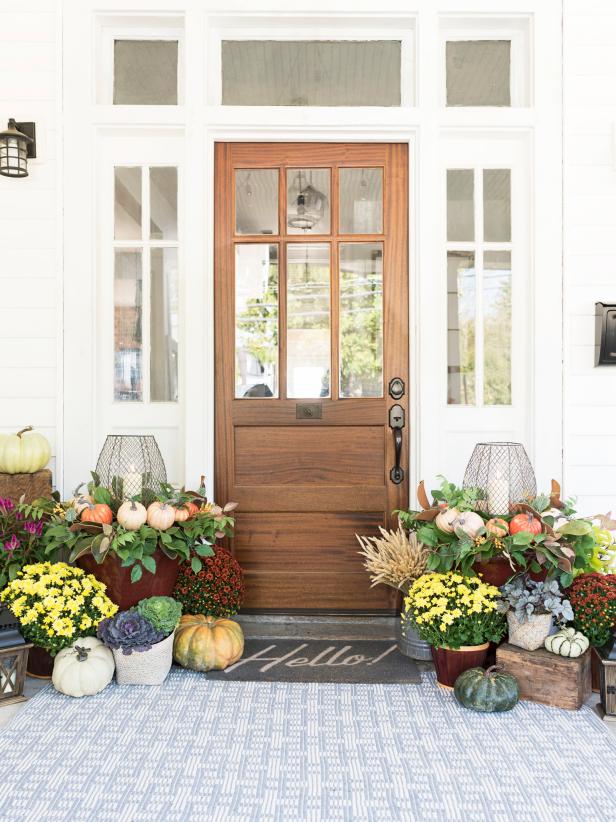 Double-Up on Porch Rugs
Pull your front porch together with this designer tip: Layer an outdoor area rug beneath a standard porch rug for an extra-luxurious look.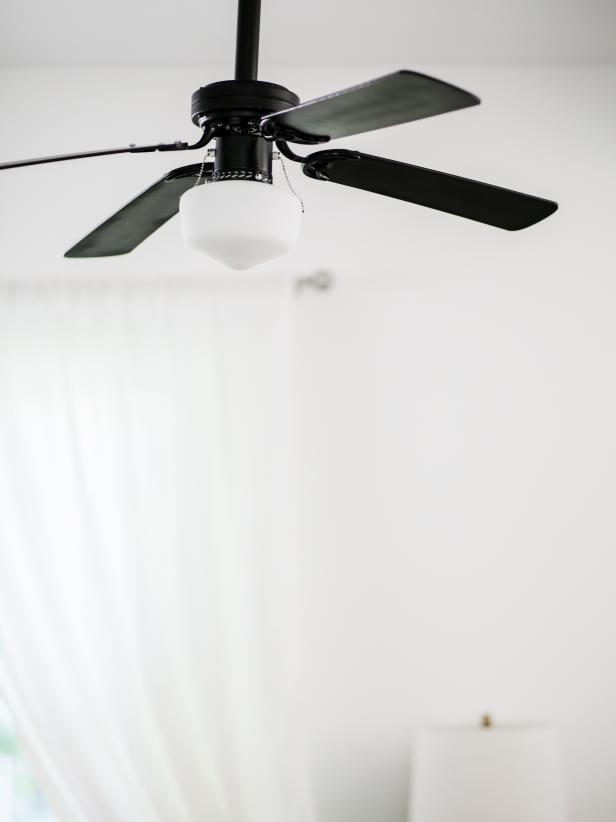 Give Your Fan a Makeover
Has your celing fan seen better days? Upgrade a boring, old fan by coating the blades and metal components with high-heat black spray paint.
LEARN HOW: Fake Fancy With These Easy + Cheap Home Upgrades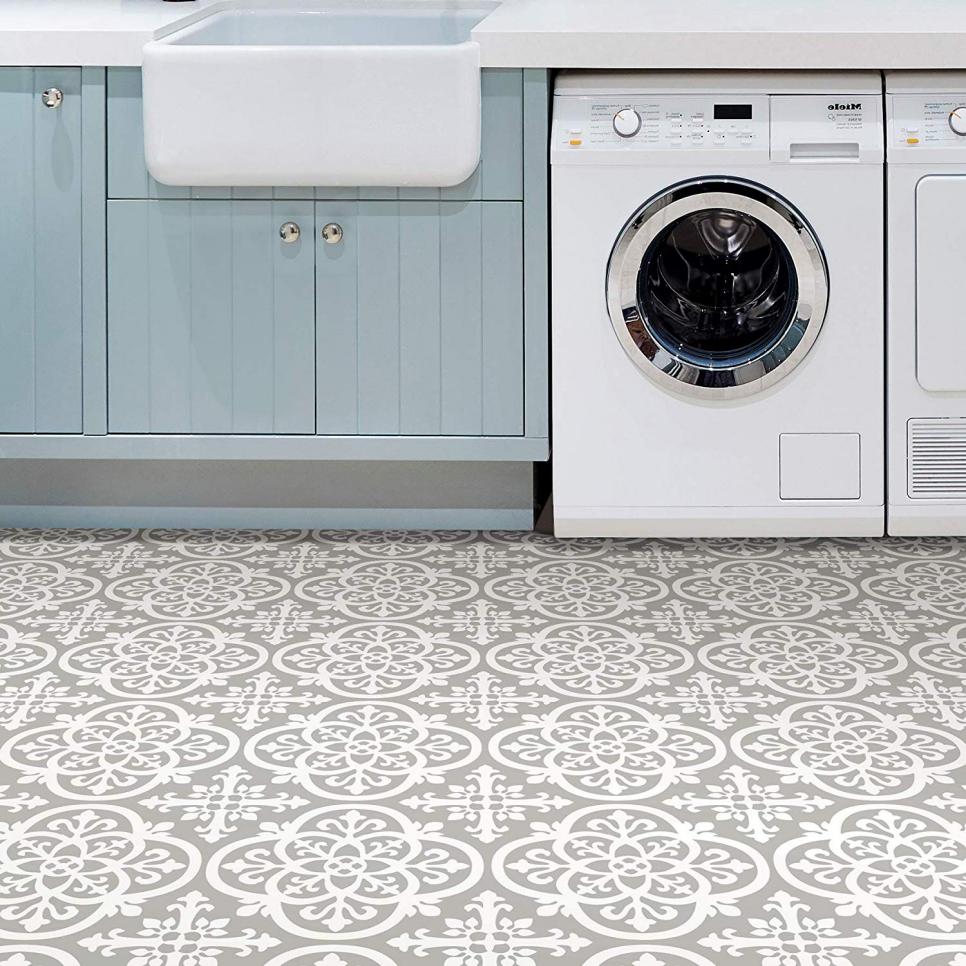 Try Peel-and-Stick Tile
If you're on the internet at all, you've likely seen these amazing, sticky vinyl tiles. They usually come in 12" x 12" sheets or a 9-foot roll in a myriad of styles from Moroccan to subway tile. So what's the catch? Well, they might not hold up in high-traffic areas like the bathroom or kitchen floor long-term and can have an adverse reaction to heat. But they're a great low-cost option in small spaces like a laundry room, den or as a kitchen backsplash. And because they're removable, you can play with trends without the commitment.
BUY IT: Amazon, $9.98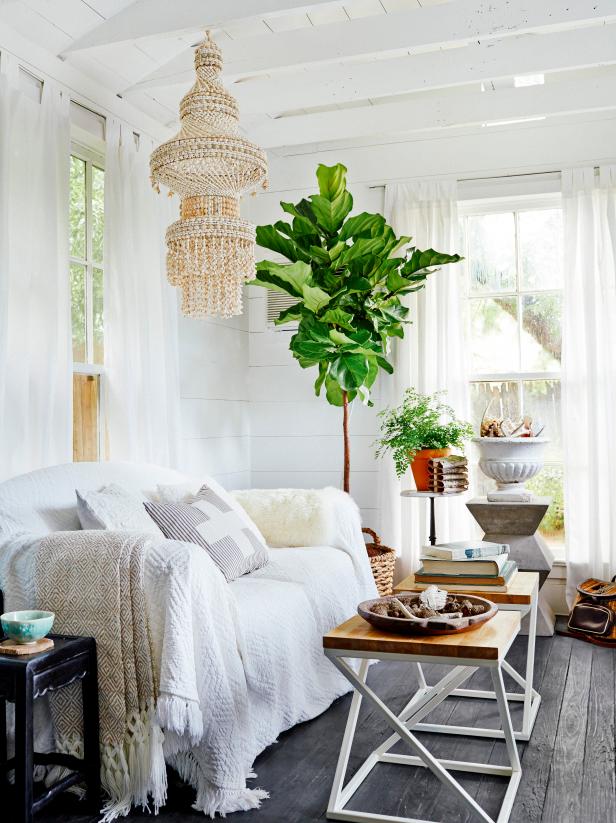 Make an Old Couch New Again
Are you squeezing every last bit of life out of that couch from college? While you're saving up for your dream couch, there's no need to skimp on style. Give your sofa a mini refresh by draping it in blankets and loads of fluffy throw pillows, strategically placed to hide stains.
SEE MORE: 30 Sofas Made for Hours of Lounging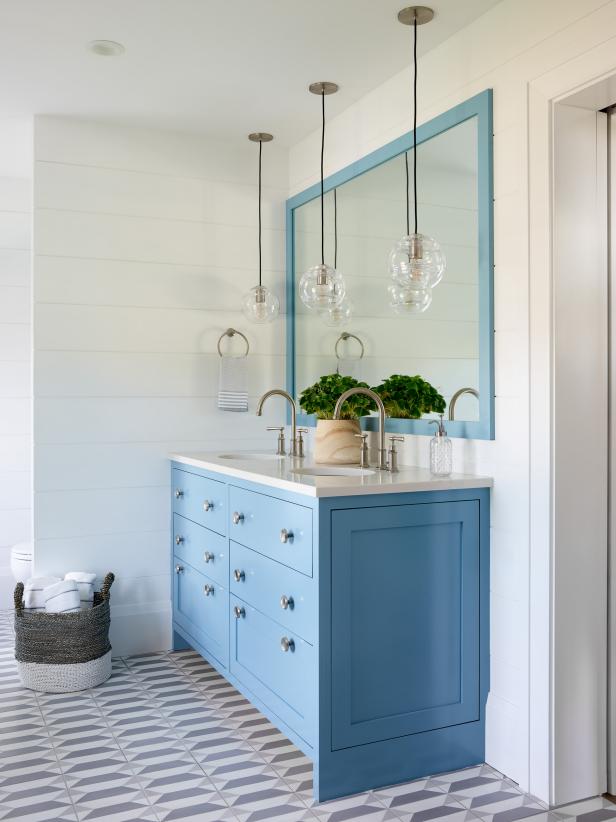 Frame the Bathroom Mirror
Could your bathroom use a little TLC? Add a quick and easy dose of style by framing a builder-grade plate glass bathroom mirror with decorative molding.
LEARN HOW: Bathroom Update: Add a Frame to a Mirror and Paint a Vanity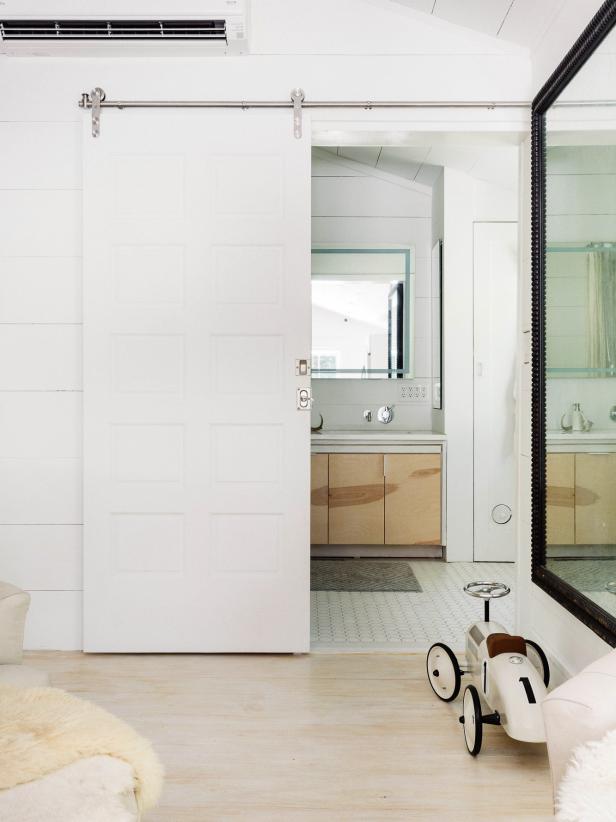 DIY Sliding Barn Door
Turn any door into a unique statement piece by taking it off the hinges and installing it on a sliding barn door track. Snag the hardware here for less than $40, then learn how to hang it using our step-by-step instructions below. If you want to use your existing builder-grade door for this project, follow these instructions: Learn How
GET THE INSTRUCTIONS: How to Make a Sliding Barn Door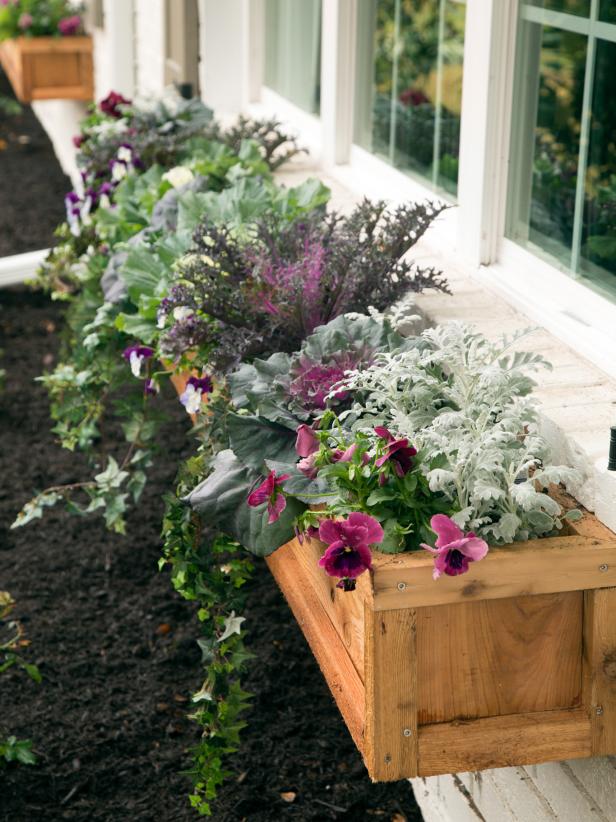 Wow With Window Boxes
Don't forget your exteriors! Add color and interest to the front of your home with DIY wood window boxes filled with overflowing, seasonal blooms.
LEARN HOW: DIY Floating Window Box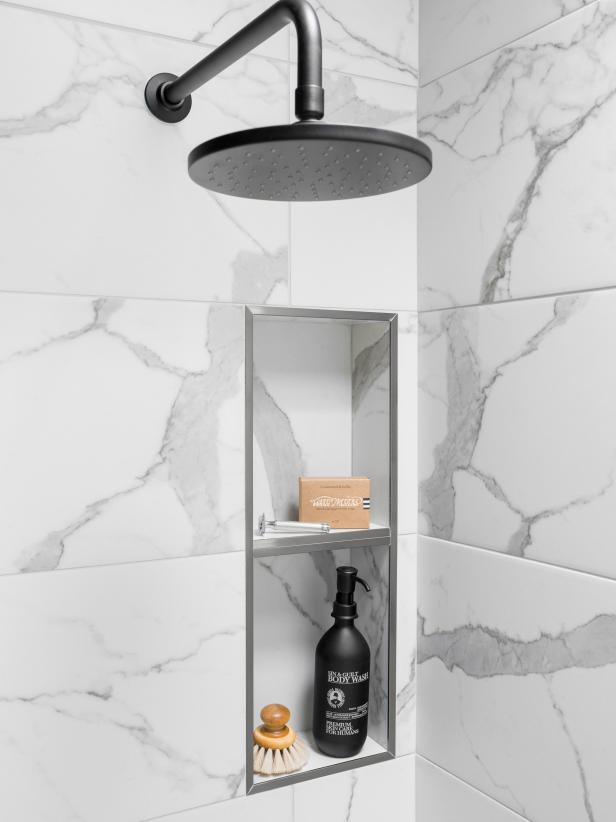 Make It Rain
Turn every day into a spa day simply by swapping out your showerhead. For less than $50, you can recreate this high-end look at home with a matte black rain head and matching extension arm.
BUY IT: Amazon, $36.99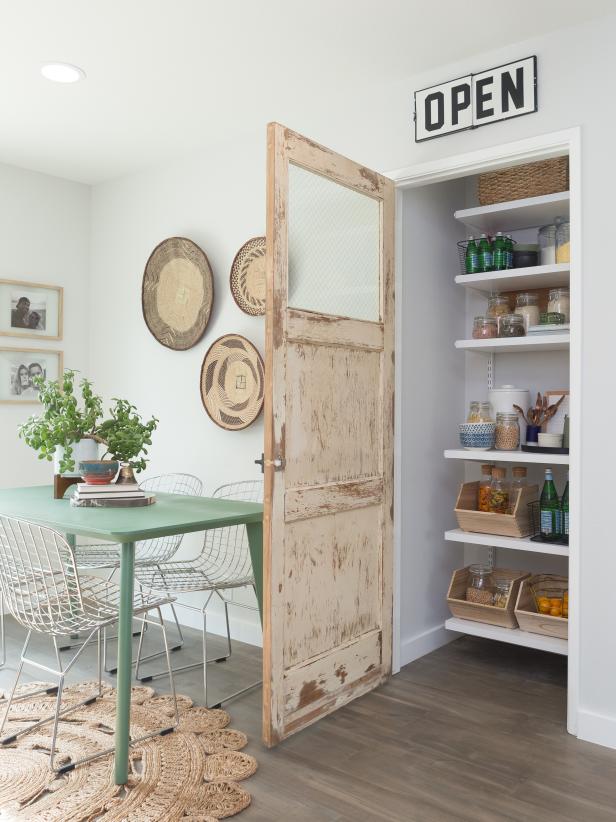 Go Antiquing
Want to add lived-in character to your builder-grade home? Swap your basic pantry door for a charming antique find like designer Jasmine Roth did here.
MORE IDEAS: 20 Old-Home Design Elements to Add to Your New Build
Make Planter Posts for String Lights
Want to add cafe lights to your outdoor space, but don't have a pergola or fence to hang them from? Try this budget-friendly project that turns wood planter barrels into stylish light posts.
LEARN HOW: How to Make Planter Posts for String Lights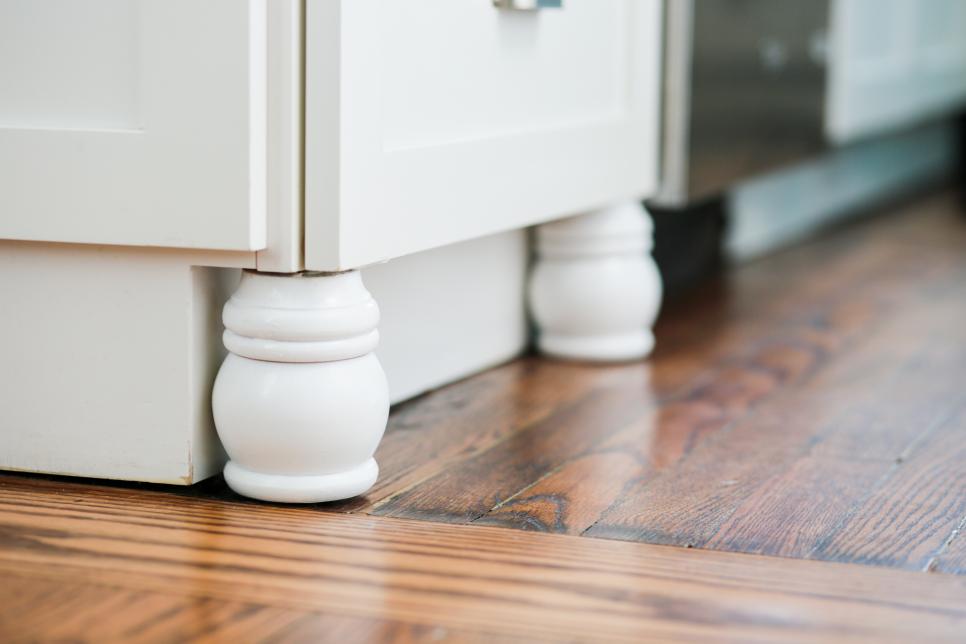 Customize Your Cabinets
Make your standard kitchen cabinets look like built-in furniture pieces with the addition of furniture feet painted to match. Measure the height from the floor to bottom of the cabinet, then find unfinished "bun" feet online or at the craft store to fit your measurements. Pro tip: Take one of your kitchen drawers with you to the hardware store and a paint expert can mix the exact shade you need.
SEE MORE: Fake Fancy With These Easy + Cheap Home Upgrades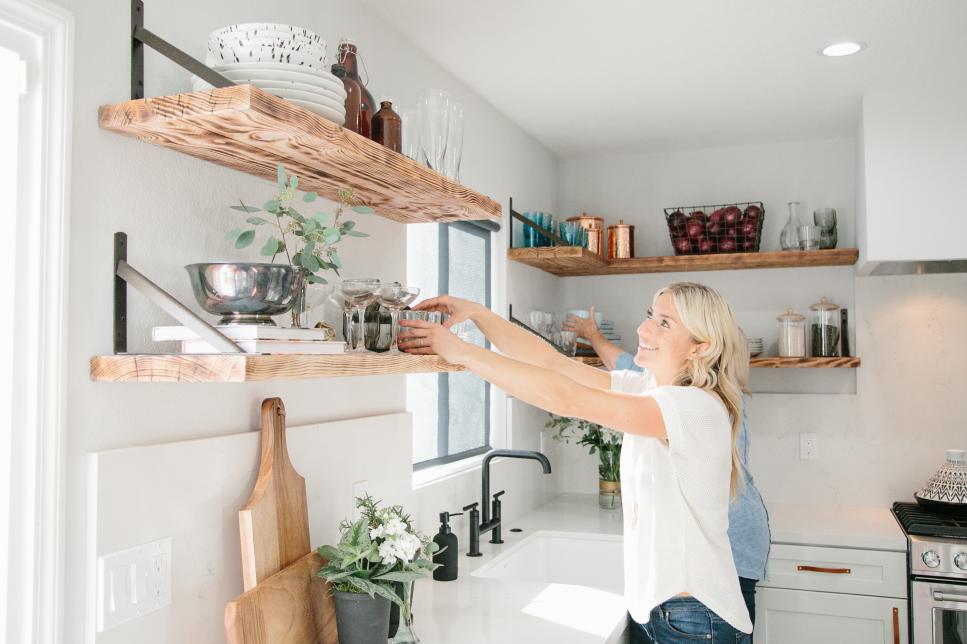 Build Wood Shelving
Break up endless cabinetry in the kitchen with a wall of open shelving you can make yourself. To pull off this lovely look, Jasmine Roth hand-charred pine boards, sealing the wood without the use of chemicals. Because this technique requires the use of fire, we recommend doing your research and buying proper safety gear before starting this project. Learn How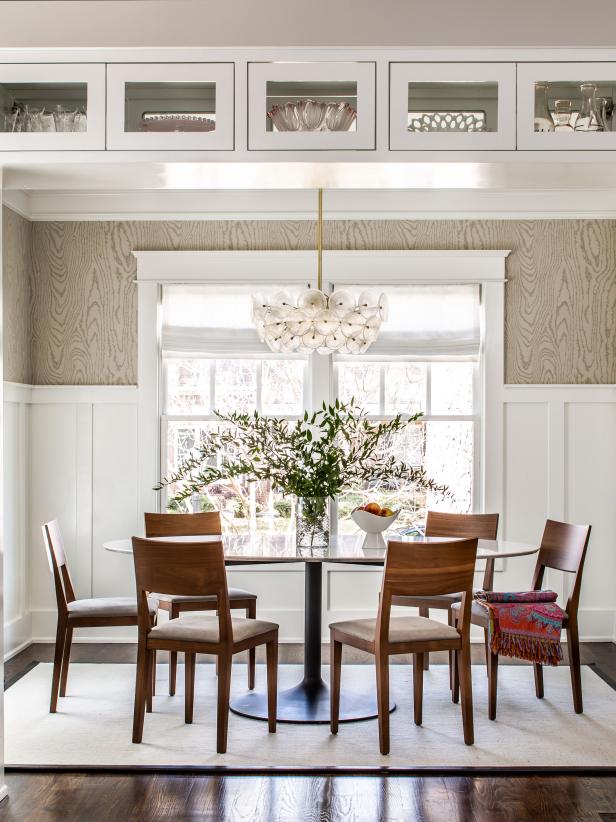 Trim It Up
Give doors and windows a total overhaul by framing them in farmhouse-inspired trim. Not only is this project much easier to DIY than you think, but it's also surprisingly affordable, coming in at just $30 per door. Get the step-by-step instructions below.
LEARN HOW: 5 Easy Steps to DIY Farmhouse-Style Trim
Stencil Stair Risers
Give your staircase a lift by stenciling risers to look like they've been adorned with vintage tile. The easiest way to get this look on a dime? Measure your stair risers, then find a stencil online (we've linked some low-cost picks below). Instead of stenciling directly onto your staircase, save your back by cutting plywood boards to size, painting and stenciling them at a work table, then installing directly to your stairs using a nail gun or removable picture hanging strips (great renter-friendly option).
MOROCCAN STENCILS: Amazon, $11.99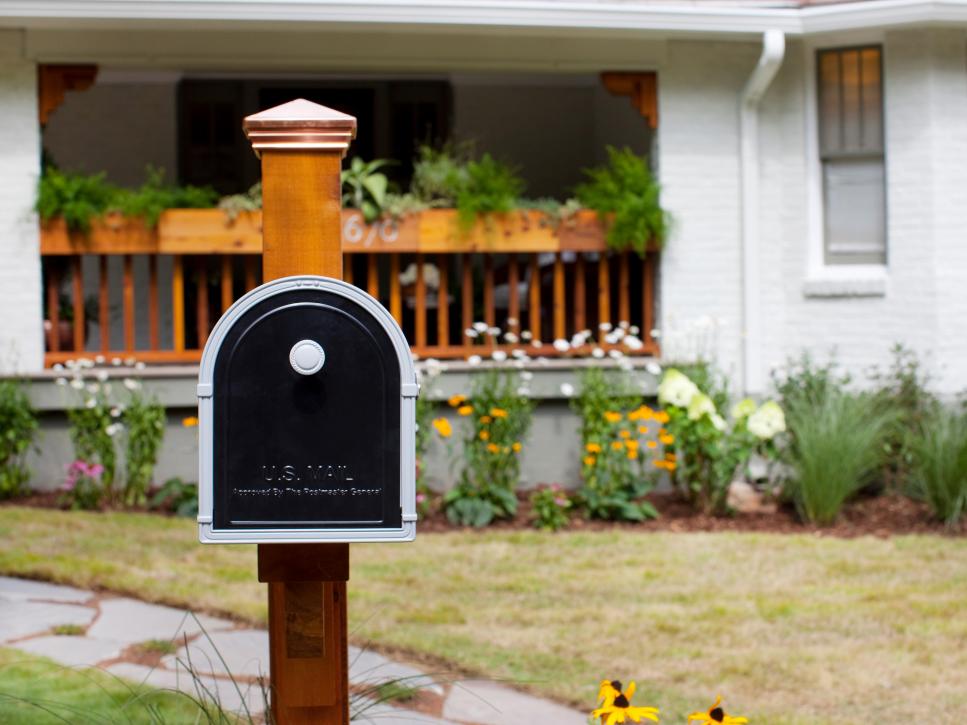 Mailbox Makeover
Boost your curb appeal instantly by giving that old, tired mailbox a quick, inexpensive spruce. Eileen of Just Measuring Up updated her mailbox for just under $20 with some basic supplies from the hardware store and a fresh coat of paint. Pro tip: Before installing a new mailbox, remember to check with the postal service for current installation guidelines. Learn How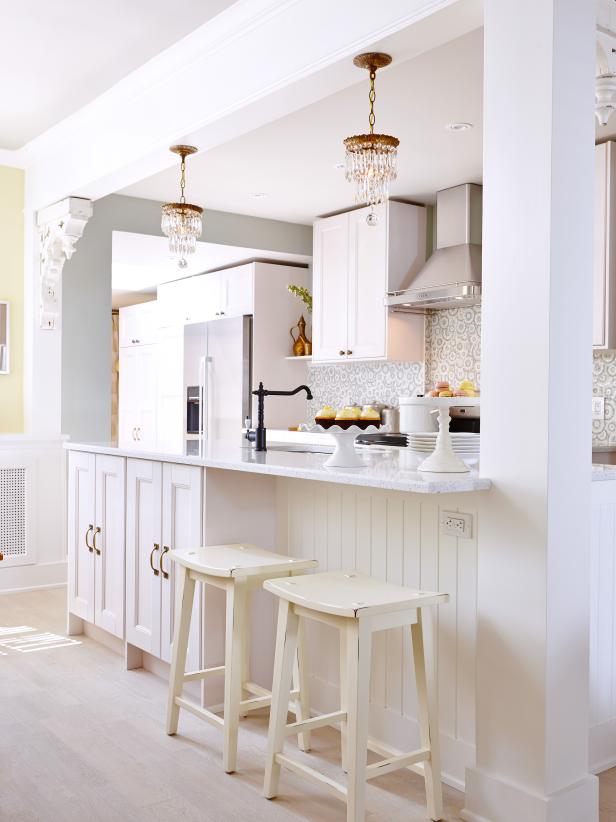 Jazz Up Kitchen Cabinets With Beadboard
Is your kitchen lacking charm? Add a major dose of it by installing beadboard around cabinetry, like designer Sarah Richardson did here.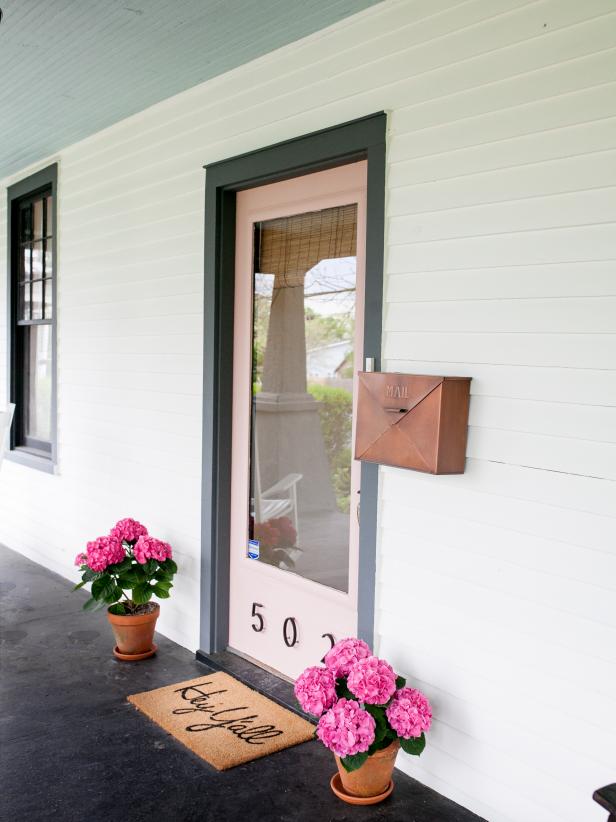 Put House Numbers on the Front Door
Skip the standard kick plate and install chic house numbers on the bottom of your front door instead.
MODERN HOUSE NUMBERS: The Home Depot, $8.23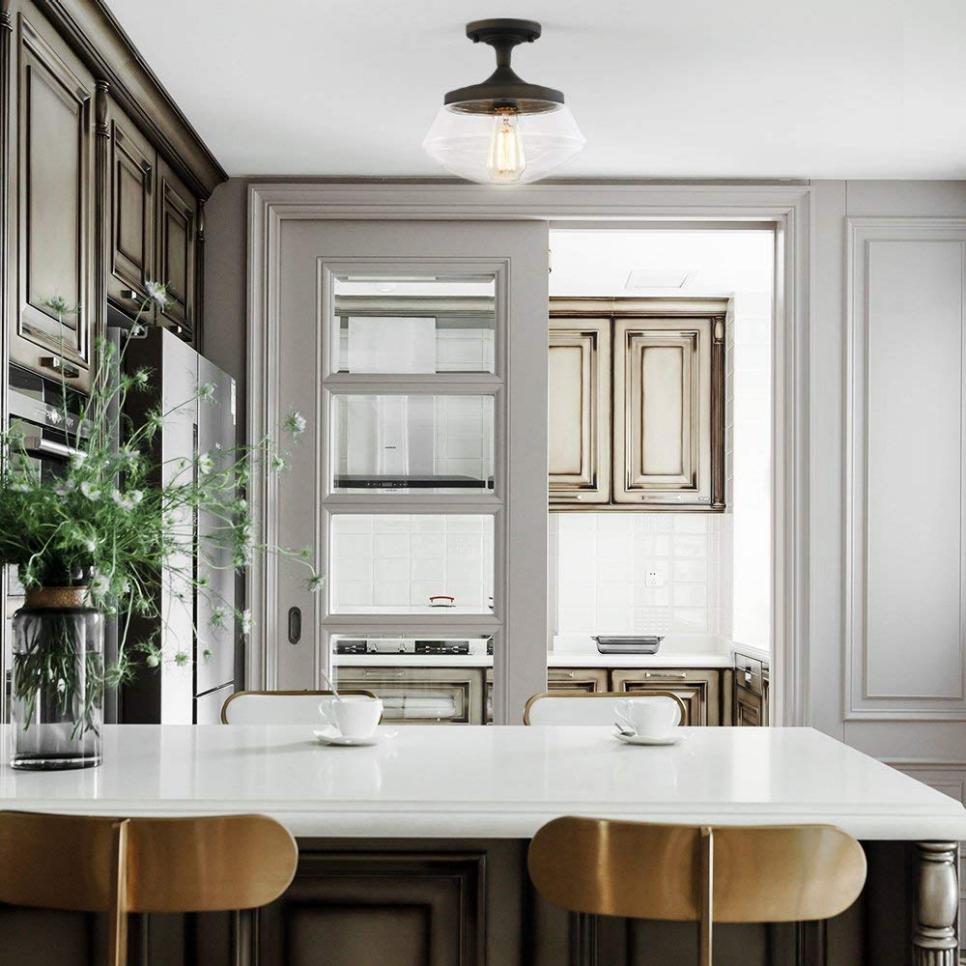 Say "Buh-Bye" to Boob Lights
And "hello" to a profusion of new, trendy, flush-mount lighting designs like the pretty schoolhouse-style pick shown here.
BUY IT: Amazon, $41.70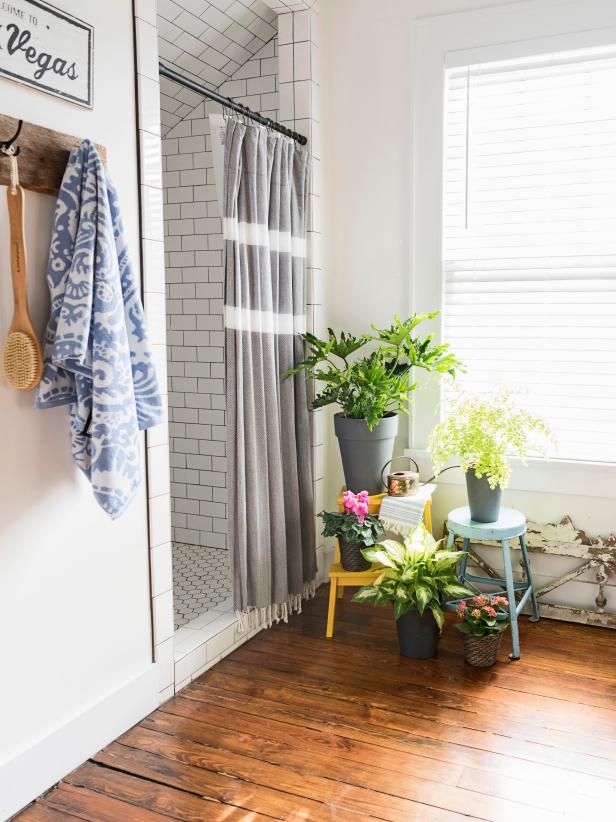 Just Add Plants
A cluster of lush, green plants adds instant style to any space, especially when potted in sleek containers and arranged on colorful, thrifted stools. Pro tip: This quick trick works great in a sunny bathroom where plants get plenty of light and humidity.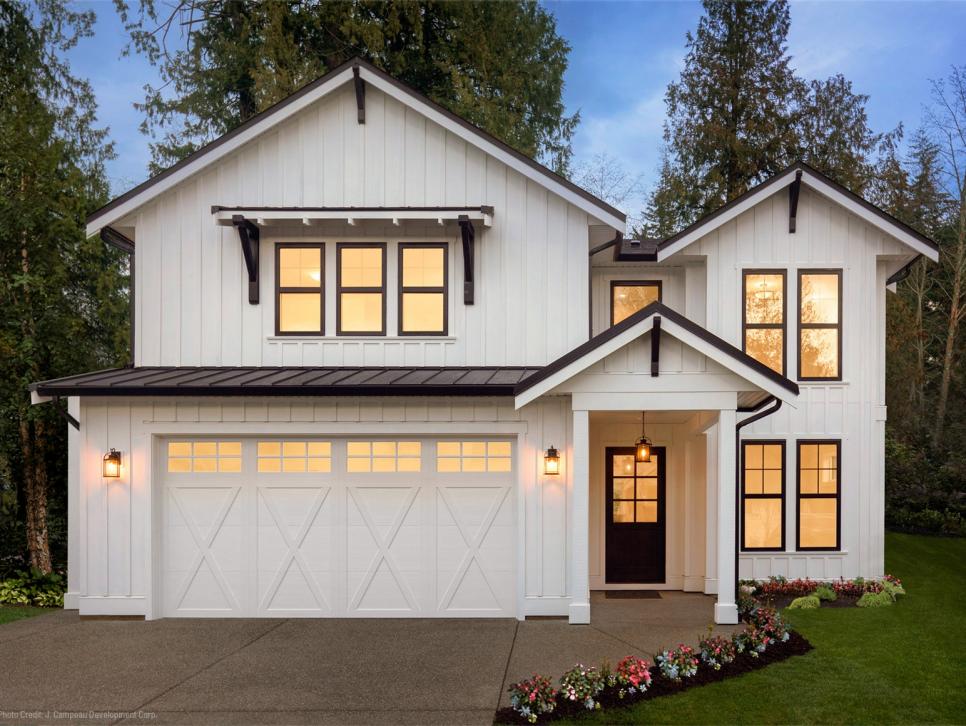 Replace Outdoor Lighting
If you've got 20 minutes and $40, you can totally transform your home's curb appeal with a new set of outdoor lights.
BUY IT: Amazon, $39.89, 2-pack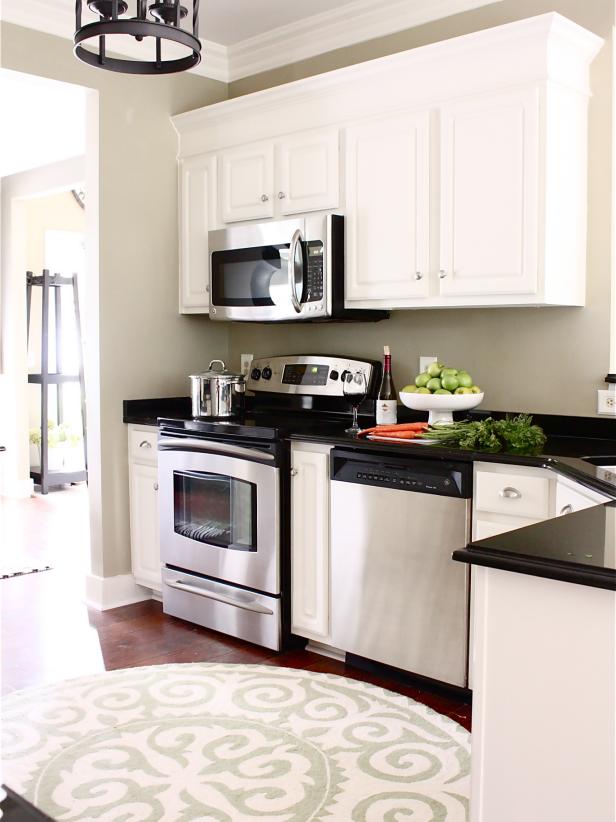 Give Cabinets a Lift
Add height and interest to your builder grade cabinets without paying the hefty price tag of custom cabinetry. Interior designer Sarah Macklem from The Yellow Cape Cod achieved this rich, tall cabinet look in her own kitchen by adding pre-primed MDF (Medium Density Fiberboard) and decorative crown molding to the tops of her cabinets. Learn How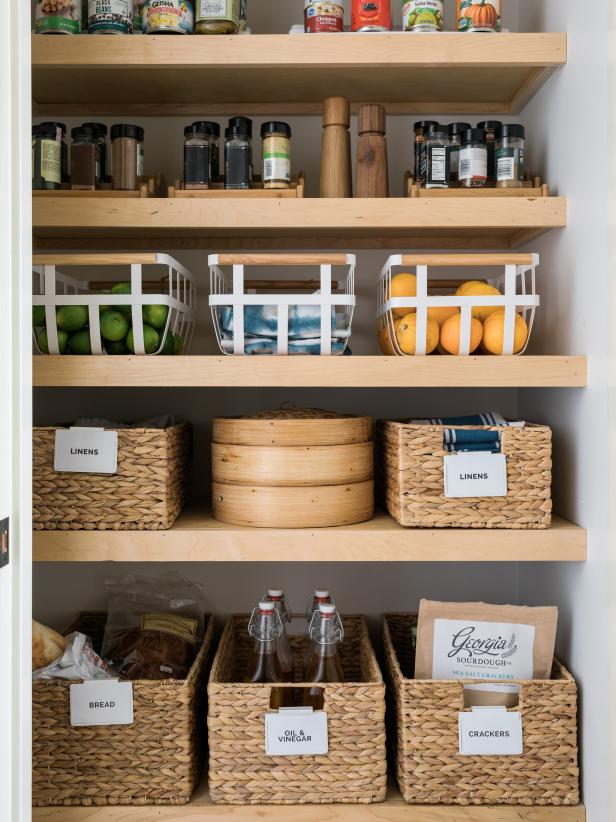 Pretty-Up Your Pantry With Baskets
Do pictures of organized pantries bring you joy ... and jealousy? Give your messy closet a pretty, practical overhaul by placing pantry staples in dedicated bins. These woven beauties will only set you back about $8 each, leaving plenty of wallet wiggle room for the handy clip-on labels.
SNAG THESE WOVEN BASKETS: $7.99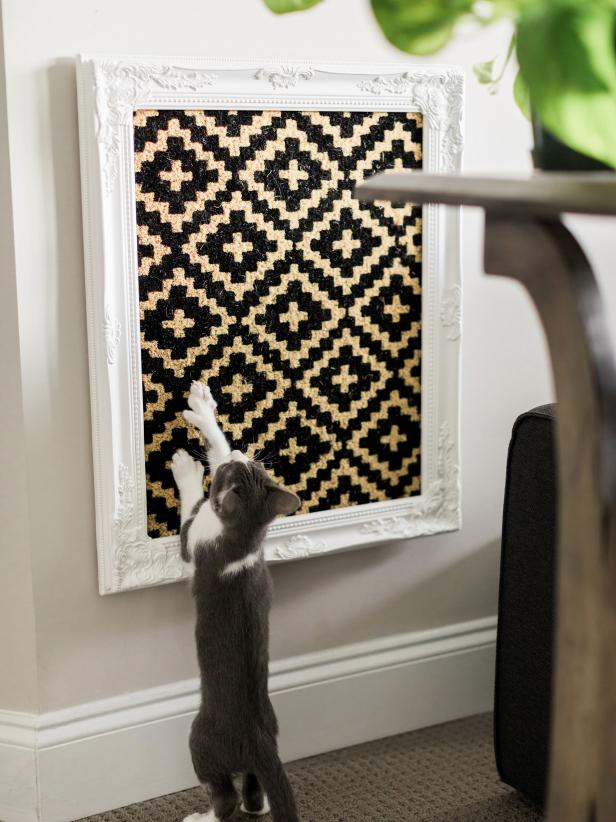 Furniture-Saving Scratch Board
If you have a kitty that loves to use its little claws on your couch, then you'll both dig this clever scratch pad project. Refurbish an old frame by giving it a fresh coat of paint, then replace the art with a patterned doormat trimmed to fit the frame. You'll need a deep-set frame and heavy-duty tape to secure the mat inside the frame. Once completed, hang it with proper anchors and hardware so it'll stay put during playtime.
MORE IDEAS: 12 Adorable DIYs for Cats + Cat Lovers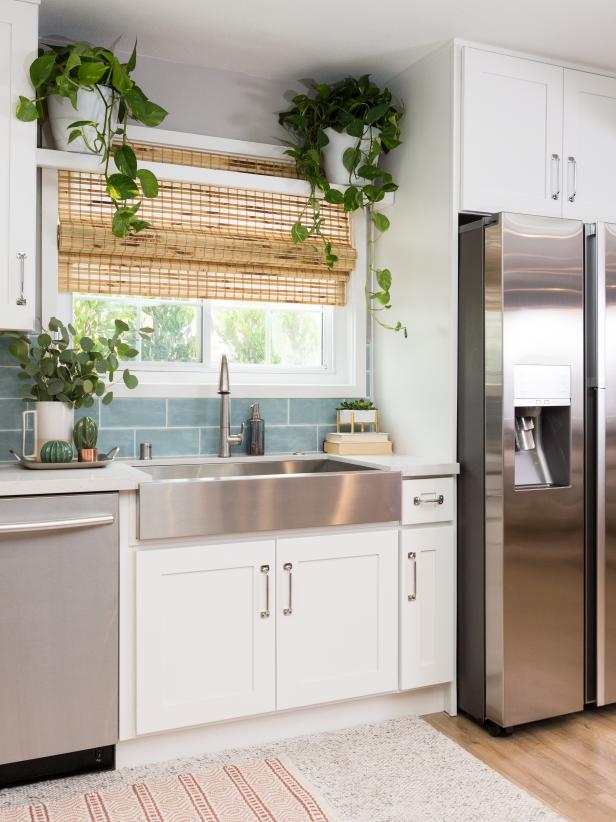 Hang a Plant Shelf
Look up! A simple shelf overflowing with low-maintenance house plants acts as a second window treatment above this kitchen sink.
SEE MORE: 21 Indoor Plants for Low Light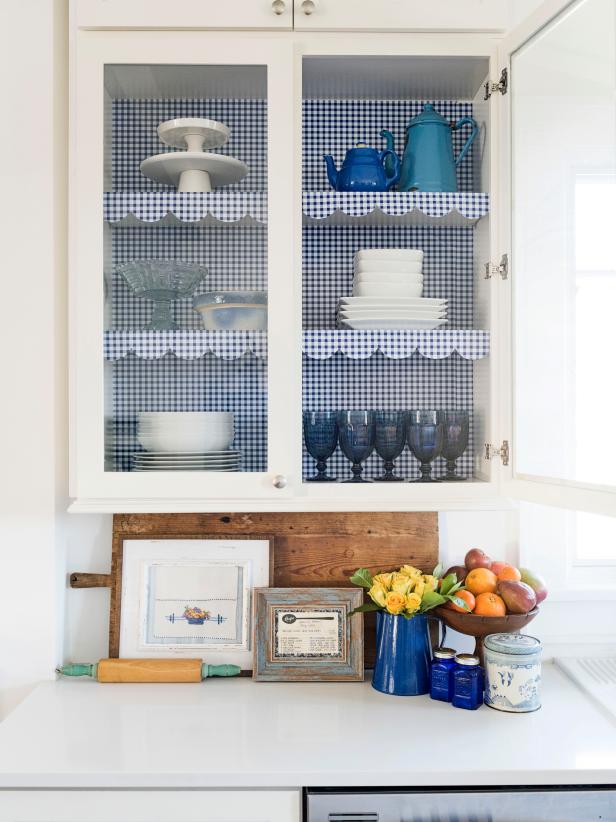 Amp Up the Color With Shelf Liners
Self-adhesive shelf liner isn't just great for drawers — use it to give glass-front kitchen cabinets or open shelving a big (inexpensive) pop of color and vintage-style charm.
LEARN HOW: Give Your Kitchen a Colorful Makeover (Without Paint!)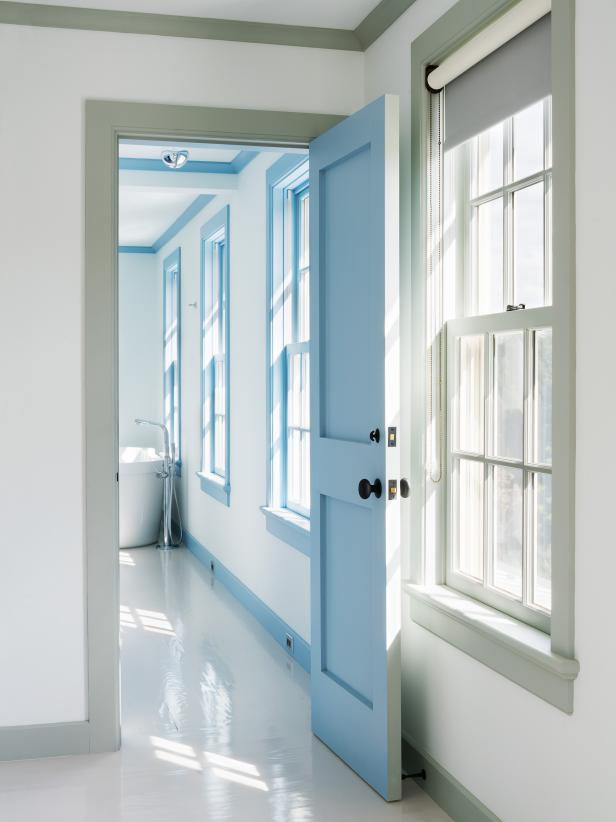 Panel a Plain Door
The easiest way to make a designer-worthy impact in your space? Update the doors. If your home is plagued by one-dimensional doors, consider transforming them into gorgeous, Shaker-style doors with plywood panels and a fresh coat of paint. Since most Shaker varieties can retail for over $200, we'll call this project a steal! Learn How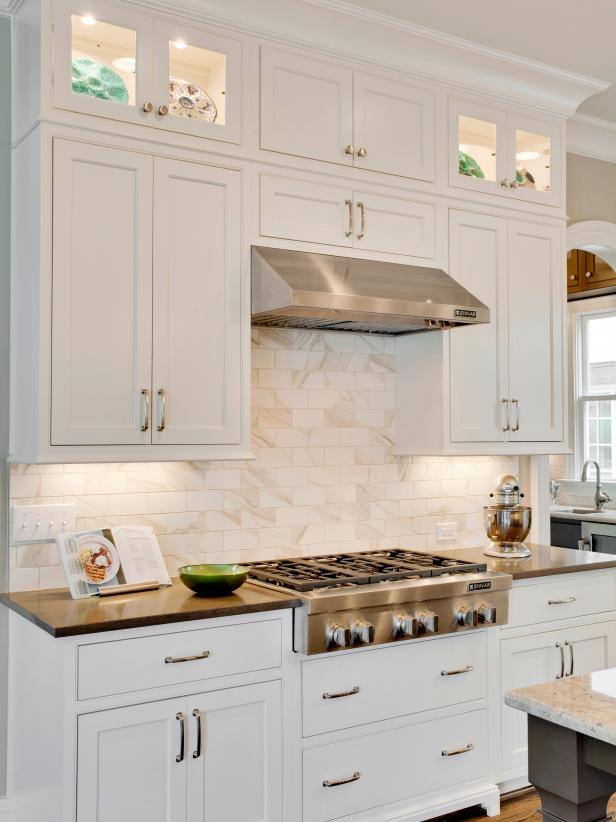 Under-Cabinet Lighting
Set the mood in your kitchen by installing soft, inexpensive lighting under the cabinets. A three-pack of LED puck lights costs around $30 and they're ultra-easy to install. But puck lighting isn't the only option — this helpful guide can help you pick the perfect under-cabinet lighting for your wants and needs.
BUY IT: The Home Depot, $27.99, 3-pack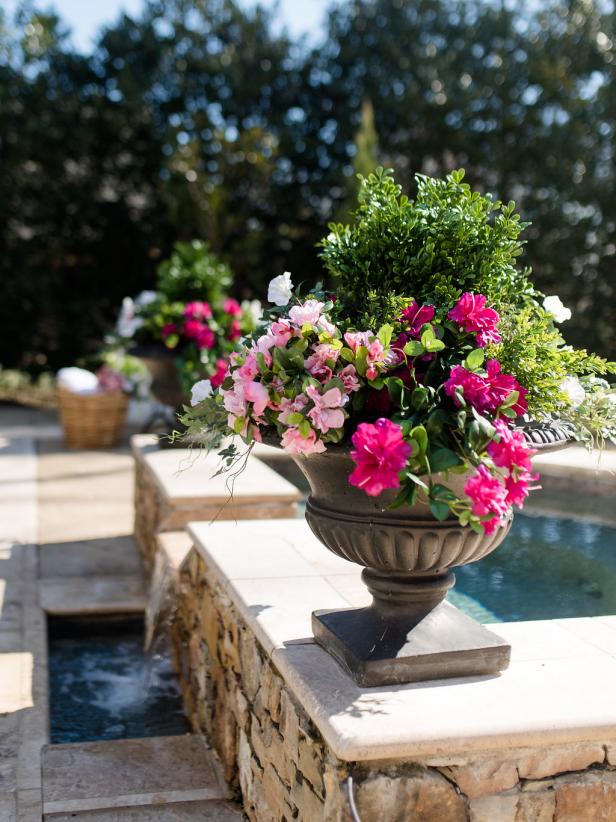 Fake It Till You Make It
These containers are filled with faux flowers. You read that right! When arranged correctly, faux blooms can look and feel like the real thing, without the upkeep. If you struggle to keep plants alive, mix faux boxwoods and faux annuals with real, drought-tolerant (read: hard-to-kill) vines for a low-maintenance look that will last all summer.
MORE TIPS: This Outdoor Planter Hack Will Save You Time, Money & Sanity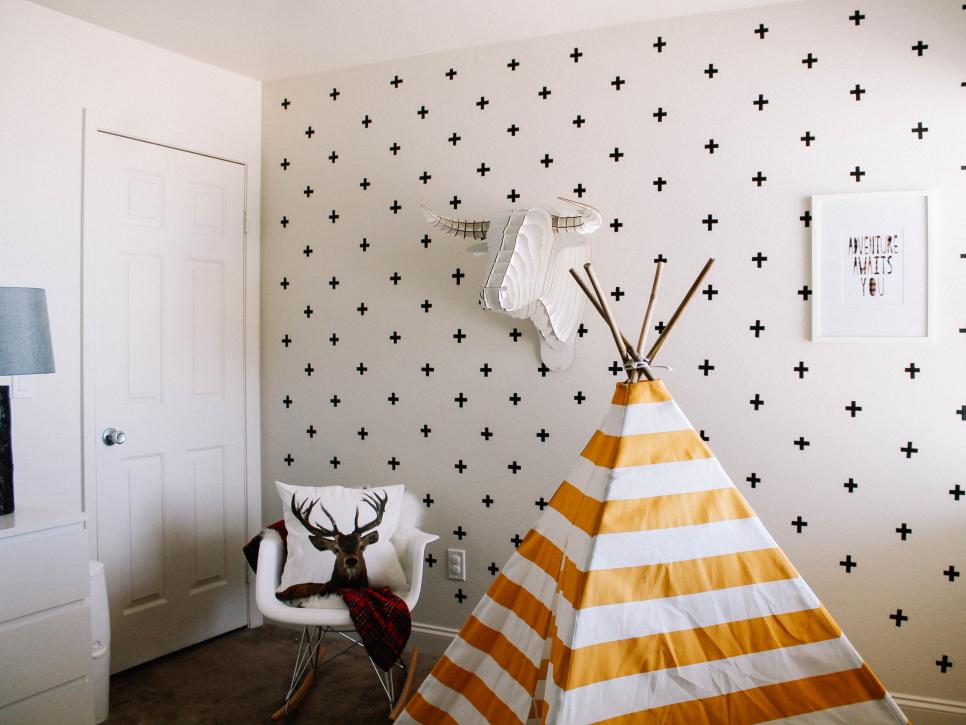 Washi Tape Accent Wall
This gorgeous accent wall was created with just two rolls of black washi tape. And since the tape is so easy to remove when the time comes, this beauty is a fabulous option for renters. Learn How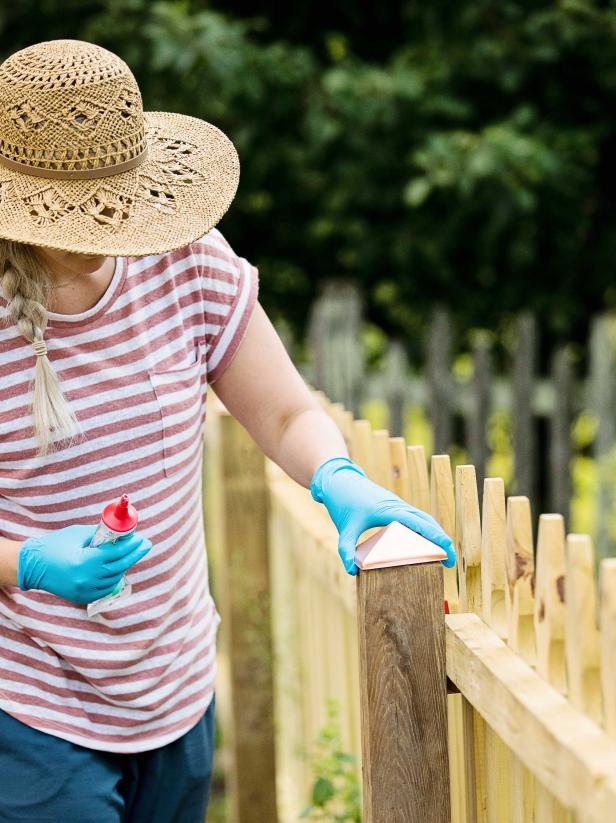 Glam Up the Grounds
Decorative fence post caps aren't just for looks — they add years of life to your fence by protecting the posts' end grain from the elements.
BUY IT: The Home Depot, $3.97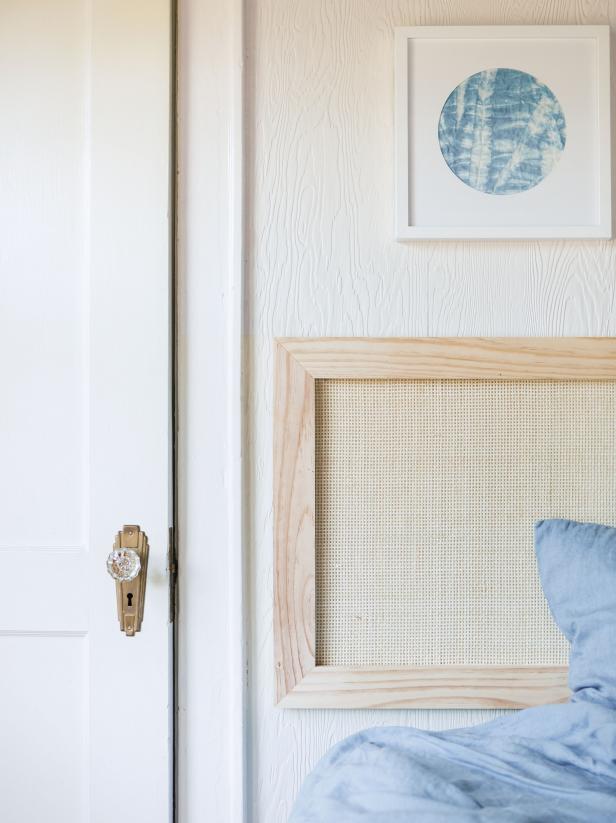 Cheap + Chic Headboard
Who says a one-of-a-kind focal piece has to break the bank? Make your very own stylish, cane headboard with just a few simple supplies and basic tools. Follow the step-by-step instructions below, then get more DIY headboard ideas here.
LEARN HOW: How to Build a Framed Cane Headboard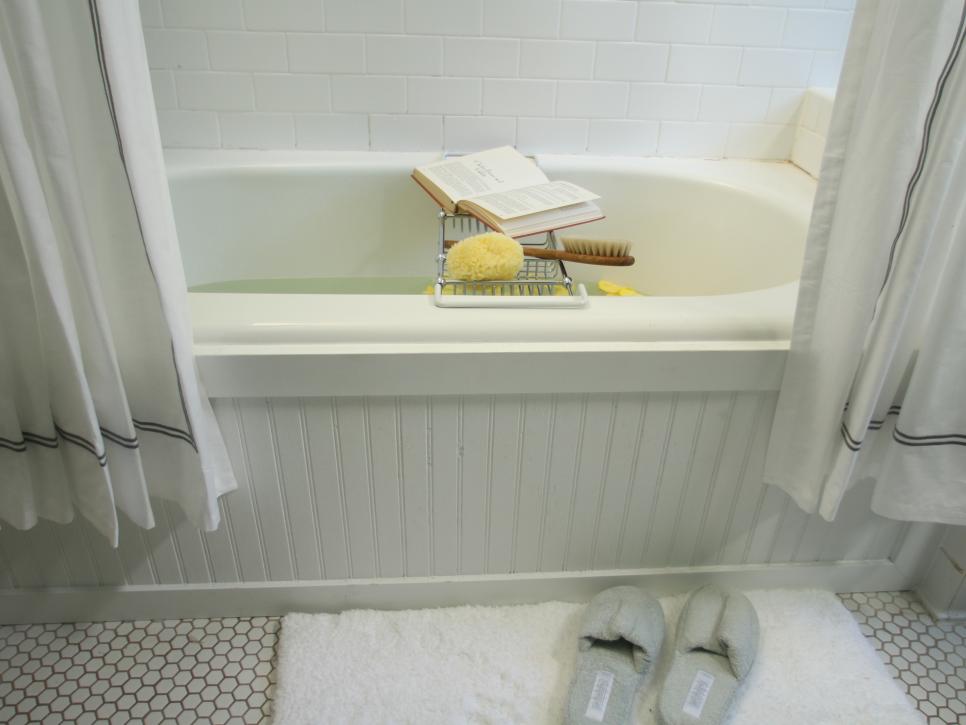 Create a "Built-In" Bathtub
Give a basic bathtub a cozy cottage makeover with charming beadboard trim. This project requires roughly one 4' x 8' sheet of beadboard (which comes in just under $20) and zero hardware (only glue!), making this thrifty upcycle ideal for moderate DIYers.
LEARN HOW: Update a Bathtub Surround Using Beadboard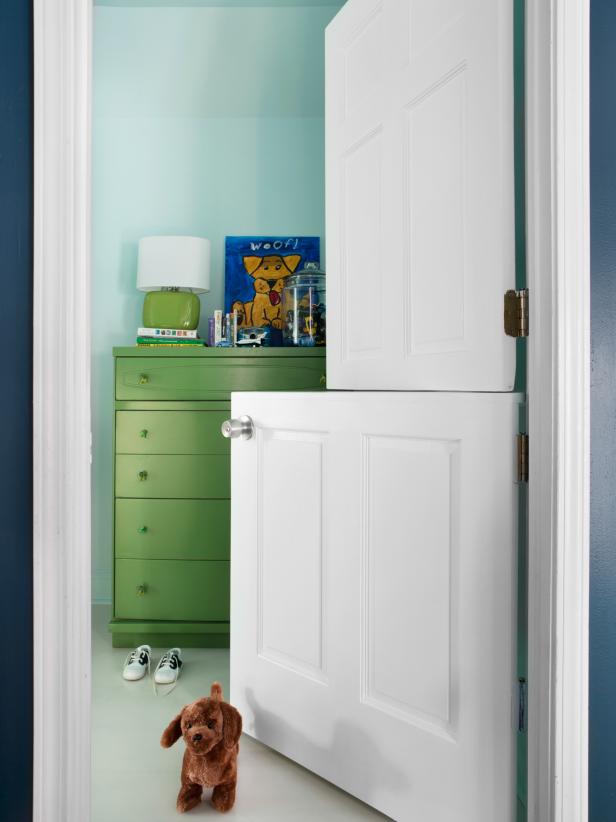 Turn a Bedroom Door Dutch
Keep an eye on kids or pets by giving an existing interior door a split-level update.
LEARN HOW: How to Make a DIY Interior Dutch Door
Source: hgtv.com